Yom Hashoah 2023
Location:In personVenue:Multiple locationsDate:Sunday, 16 AprilTime:Multiple events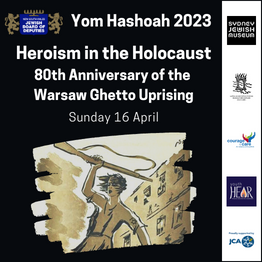 Tickets:
The annual Yom Hashoah Holocaust remembrance events hosted by the NSW Jewish Board of Deputies will take place next month.
The theme for this year's communal commemoration is "Heroism in the Holocaust", with keynote speaker Thomas Keneally AO, author of Schindler's Ark, which was adapted into the film Schindler's List. As the very person who told the world of Oskar Schindler's heroism, Keneally will share his remarkable story behind revealing Schindler's story, and his thoughts on the impact of Schindler's Ark and Schindler's List on Holocaust remembrance worldwide.
The commemoration will mark 80 years since the Warsaw Ghetto Uprising, featuring representatives from Jewish youth movements, and a tribute to partisan fighters will include the Sydney Jewish Choral Society singing the Partisan Song. There will also be a moving segment honouring the life and experiences of beloved Holocaust survivor, Yvonne Engelman OAM.
We are inviting you to attend the commemoration in person on Sunday 16 April at 6:45pm for a 7pm start at a location in Kensington (address to be supplied ahead of the event). There is free parking available at this event location and efficient public transport options.
As well, the Memorial Service and Unto Every Person There is a Name (reading of Holocaust victims' names) will be held in person on Sunday 16 April at 10:30am at the Martyrs' Memorial, Rookwood Cemetery.
The Yom Hashoah commemoration is one of the most important events on the Jewish calendar, and your presence would be greatly welcomed. Please register using the form below.